Home value appreciation rates differ radically by location. The U.S. average annual appreciation rate is 14.5% year over year, but some cities see home values rising slower—and in some cases, much faster. Raleigh's median home value has risen 34.9% in the last year alone!
Whether you're a homeowner or a prospective buyer, it's a good idea to keep an eye on home appreciation rates. Homeowners can use this information to keep abreast of their investment, while buyers can make informed decisions about which location will bring the highest returns.
To learn more about Raleigh's home appreciation rate and how it compares to other areas in the U.S., check out the following.
What is home appreciation?
In real estate, home appreciation is the increase in a property's value over time. Factors that affect appreciation include location, home maintenance and upgrades, size and usable space, and market conditions like supply and demand. You can take a guess at how much your home's value will appreciate over a certain amount of time by tracking appreciation rates.
Appreciation rates in U.S. cities
If you've been watching the market, you know that home values have risen rapidly over the last few years. To help home buyers and sellers compare the appreciation of their homes to others, we selected nine cities in different regions of the United States to analyze and sorted their data into the chart below.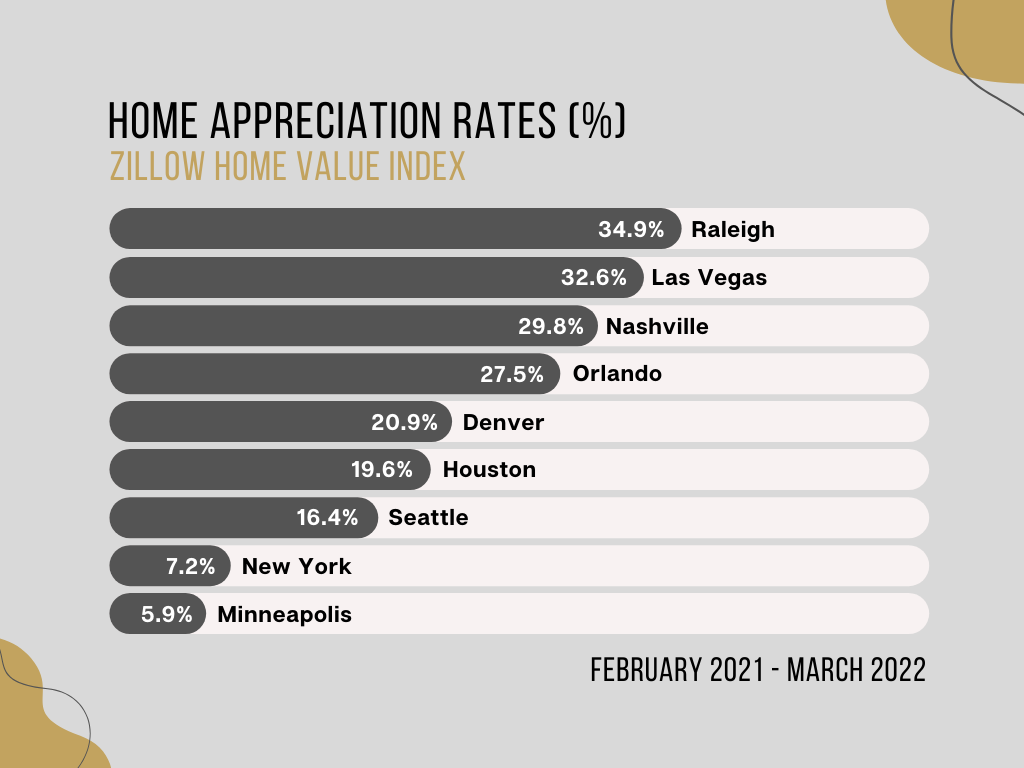 Raleigh is leading, with an extraordinary home value appreciation rate of 34.9% in the last year. This massive rise is driven in part by low inventory and high demand, pushing it into the #3 spot for hottest real estate markets in the U.S. While the market does show signs of cooling, predictions are that Raleigh homes will remain some of the fastest-appreciating in the country for the rest of 2022.
Raleigh's appreciation rate predictions
Current predictions indicate that Raleigh's home values will rise 24% by the end of 2022. Keep that in mind if you're planning on selling in the near future. Traditional models (that don't account for current wild appreciation rates) suggest staying in your home for at least five years to account for high transaction fees for buying and selling and to allow your home's value to rise significantly.
But with current appreciation rates rapidly driving values sky high, you have more flexibility and the potential to still earn big on an earlier sale. Talk with your agent to create a timeline that works for you.
Thinking about buying? If possible, do it sooner rather than later. You'll spend less to get into a rapidly-appreciating asset, and you can take advantage of low mortgage rates—which are about to rise.
Still not sure when exactly to buy or sell your home to get the most out of its value appreciation? An expert agent from The Coley Group will help you determine the best timing based on your home's location, value, and appreciation rate.
Let us do the heavy lifting for you
There's nothing easy about selling your home (even in this market). That's where we come in. Our battle-tested team of local experts has more experience in Raleigh than any online estimate tool. Complete the form below for a comprehensive home valuation you can't get anywhere else.
Every home has a story to tell and we'd love to hear yours. Let's chat!