While shopping for a new-to-you home is a fun and exciting process, there's nothing quite like building a brand new, luxury custom home to your specifications. In Raleigh, there are several neighborhoods especially perfect for building your dream home.
Five Points is a great choice for those who want new construction right in the middle of Raleigh's historic districts inside the Beltline. North Hills offers even more space and a modern midtown feel, while Apex is the right option for those looking to get out of town or join a beautiful planned community.
To decide which of these neighborhoods is right for you, check out the following.
Five Points new construction properties
Some people think living inside the Beltline means living in a confined space or sharing a wall with a neighbor—but that's not the case at all. Made up of Hayes Barton, Bloomsbury, Georgetown, Vanguard Park, and Roanoke Park, the Five Points neighborhood offers plenty of space on large, lush lots. This eclectic collection of neighborhoods is walkable and bike-friendly, and its charm is hard to resist. Opulent new construction homes stand by historic beauties in Five Points, where the modern and traditional thrive side-by-side.
The best place to find a lavish new construction home in Five Points is in Hayes Barton. Hayes Barton is a historic district known for its elegance, and homes here go for an average of $1.2M. Expect to spend between $1.5M and $2M for a custom new construction property in this area; more if you want a bigger home built to your exact specifications. 
For a truly palatial new construction home in Hayes Barton and the rest of Five Points, look no further than DJF Builders. Their slogan is "homes of distinction," and they deliver every single time. With unsurpassed craftsmanship and the utmost attention to perfecting the details, DJF goes above and beyond to turn your vision into reality. Whether you want to purchase one of their current luxury listings or work with their expert team to build your dream home in Five Points, you can't go wrong with DJF.
North Hills new construction properties
The North Hills area offers gorgeous, wooded lots and beautiful custom homes. This upscale neighborhood is known for its extravagant shopping centers and an array of exquisite restaurants as well as its network of green spaces and recreational parks. Local events happen almost every day of the week here, building a strong sense of community. If you buy or build a home in North Hills, you'll enjoy peace, privacy, and fun while benefiting from convenient access to the Raleigh-Durham International Airport and Downtown Raleigh.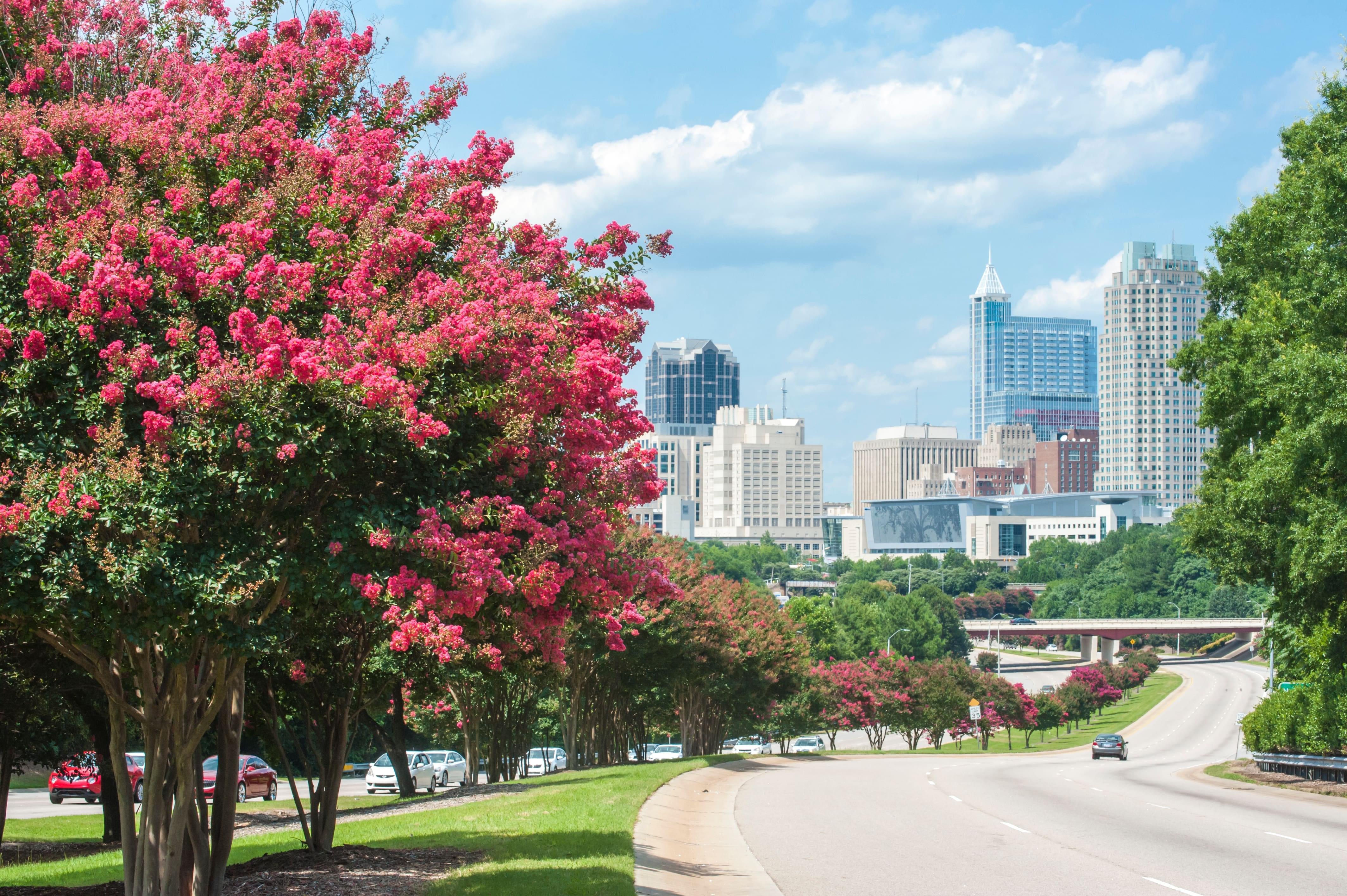 Price points in the area range widely from inexpensive townhomes at $275K to luxury custom homes at $2.5M. If you're in the market for new construction, expect to spend between $500K and $1.5M depending on your vision and budget. 
For a breathtaking new home built to your specifications in North Hills, choose the Homestead Building Company. Homestead has a long history of building luxury new construction all over Raleigh but focuses especially on the North Hills area. These award-winning homes feature incredible attention to detail, superb craftsmanship, and fine finishes.
Whether you want to purchase one of their recently-built listings or work with them from the blueprint to the final execution, Homestead Building Company is the premier choice for new construction in North Hills.
Apex new construction properties
If you're looking to get away from the hustle and bustle, look into a neighborhood a little farther afield. About 20 minutes from the city center in light traffic, Apex is the perfect combination of luxury appeal with connection to the natural world. If you build here, you'll enjoy a strong arts-and-culture scene, a community of friendly neighbors and small businesses, and a myriad of nature paths and trails.
New construction homes in Apex are common, but at the Coley Group, we don't deal in common. Our partner builder in Apex is Exeter Building Company, a premium luxury builder with an expert team matched by no other. Exeter homes are marked by rare luxury and true richness, apparent from their superb material choices and unmatchable designs to their extraordinary craft skills and distinguished finishing touches.
Exeter Building Company can help you build your dream home from the ground up, or you can choose a grand, pre-built new construction home in one of their communities.
In Apex, Sweetwater is a thoughtfully-designed community comprised of luxury new construction homes and a 45-acre commercial center complete with restaurants, shops, entertainment, and everything else you need to live comfortably. The community is walkable and sustainable and features Exeter's magnificent new construction homes starting from $1.5M.
Which neighborhood should I choose?
The ideal neighborhood for you will depend on you and your family's needs. If you're not sold on one just yet, chat with a member of our team and we'll help you narrow it down.
Any one of our luxury building partners will take your vision and turn it into a real-life dream home. If you'd like help choosing a neighborhood and navigating the process of building a new construction home—from land acquisition to partnering with one of our builders—please reach out.