It's no secret that Raleigh's real estate market is as hot as these summer temperatures. Just last week, Realtor.com named Raleigh as the #6 emerging real estate market in the United States. Not sure what that means? Let's break it down and take a look at what landed Raleigh on the list.
2022 emerging market index
The tool used by Realtor.com to analyze emerging real estate markets assesses the following components:
Robustness of the economy

Availability of well-paying jobs

Access to desirable amenities such small businesses and reasonable commutes
Using these factors, the index evaluated 300 metropolitan areas in the United States to identify the top markets for both investors and owner-occupant real estate buyers.
Raleigh ranks #6 on Realtor.com's list of top 10 emerging markets
Landing at #6 on this list means that Raleigh is a top contender nationwide in each of the categories. Here's a closer look.
Housing demand and home prices
Realtor.com's index considers housing demand and home prices as key parts of its analysis. High demand and rising prices identify a market as up-and-coming or emerging—or a good place to buy—while the absence of those factors indicates that a market isn't moving as quickly.
Demand for homes is partially to blame (or thank, depending on your perspective). Another reason Realtor.com includes Raleigh on its list of top 10 emerging real estate markets is that demand has kept the City of Oaks in a tight seller's market for several years—and it doesn't seem like that's changing any time soon.
Robustness of economy and job availability
An independent study by Capital Analytics Associates ranks Raleigh-Durham's business startup ecosystem 7th in the U.S. and the area's position as a tech hub 6th—attracting Fortune 100 companies like Amazon and Apple. Additionally, the area's three prestigious anchor universities draw well-educated academics, industry-leading scientists and artists, and promising students as well.
These educational opportunities, high-paying jobs at powerhouse companies, and a small-business-friendly atmosphere encourage professionals and entrepreneurs alike to migrate to Raleigh. And according to multiple quality of life surveys, when people arrive, they like what they find.
What factors contribute to a heightened quality of life? Besides a healthy economy, there are quite a few. To get an idea, check out this chart from the Swiss Federal Statistics Office.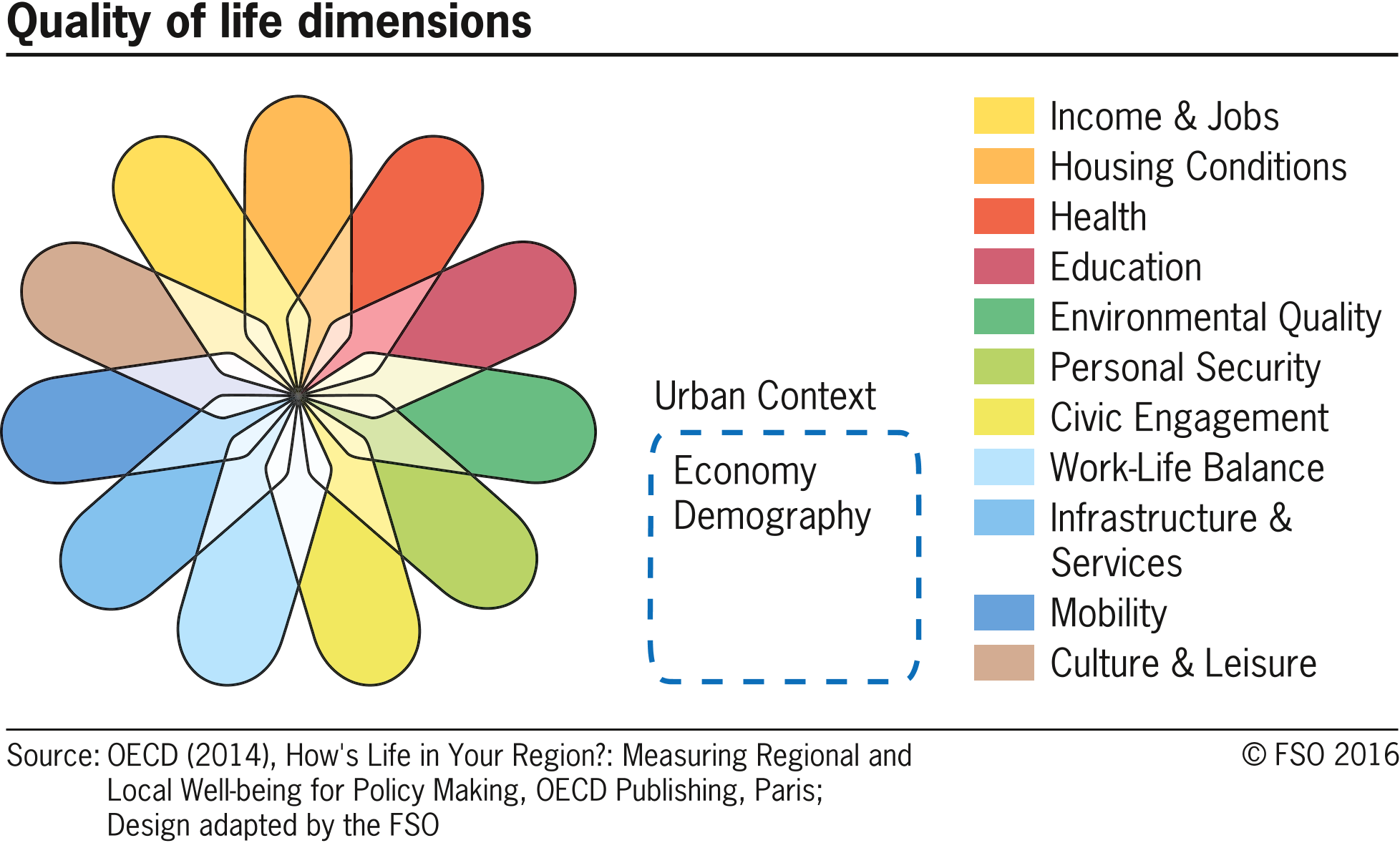 Raleigh is the #1 healthiest city in North Carolina and #38 in the U.S. overall. We're also an "international center of medical care and research with one of the nation's highest concentrations of physicians and health care professionals," according to the Raleigh Chamber, and we have a low cost to receive medical care relative to other cities in North Carolina.
Though the Raleigh Metro area is an urban center of over 1.5 million people, there are over 200 parks comprising 10,000 acres for exploration, relaxation, and outdoor recreation. This includes space for running, biking, and kayaking, as well as walking trails, hammock spots, and outdoor community event spaces.
Additionally, Raleigh's climate is mild, with an average annual high of 89°F and an average annual low of 33°F. In winter, the city receives an average six inches of snow, and its annual number of sunny days is higher than the national average at 213.
The city government also has several projects aimed at improving Raleigh's resiliency, independence, and overall environmental sustainability.
Raleigh is one of the safest cities in the U.S. Our city has low violent crime rates and low property crime rates and according to Spacewise, it is 73% safer than other North Carolina cities and 43% safer than the U.S. overall.
U.S. News reports that residents of the Raleigh-Durham area are "young, friendly, diverse and educated." Everyone is welcome here, and there are always things to do in Raleigh—no matter your lifestyle or taste.
The City of Oaks is home to award-winning restaurants, museums, and a thriving art scene. You can always catch local and national music acts as well as the best of the best in comedy, dance, and theater. Whether your tastes lean toward cutting-edge performance art or a down-home Southern barbecue festival, Raleigh is the place to be.
Picturing a move to Raleigh?
Let's make that picture a reality. The Coley Group has over two decades of experience buying and selling real estate in the Triangle, and we have what it takes to land your dream home or find that perfect investment property. Whether you're ready to buy or you're just getting started, fill out the form below to begin.
Want to know what Raleigh neighborhood would be best for you? We'd be happy to give you a breakdown. Give us a call at 919-980-9607 to schedule a time to chat.